UK's Cheapest, Hottest Phone Sex from Your Mobile or Landline! Not Premium Rate! - How does it work? Click here!
Phone Sex Chat Lines
0203 476 2993
Standard rate number - Not premium rate! Try it from your landline or mobile today!
HOW PHONE SEX HAS OPERATED UP TO NOW!
Up to now, UK phone sex services have only been available by calling a premium rate telephone number starting with "09..." - You'll see the classified ads in the backs of newspapers, men's magazines and online.

These expensive lines cost you anywhere up to £1.53 per minute! - Furthermore, you'd also end up with hard-to-explain premium phone calls on your phone bill - Not so easy to explain to your wife or girlfriend!

Don't forget, it's also impossible to call a traditional premium rate phone number from your mobile - so you're stuck with calling from a fixed landline 100% of the time!
WHY HORNY LINES IS DIFFERENT!
With Horny Lines YOU are in control! - You'll enjoy the CHEAPEST PHONE SEX anywhere in the UK bar none! - You won't have awkward phone bill statements to explain, and you can use your MOBILE PHONE at NO EXTRA COST! - There are NO RECURRING / HIDDEN CHARGES - You stay totally in control of the costs!
HOW IT WORKS...


Horny Line works on a safe "pre-pay" basis. You simply top up your account via debit / credit card and we'll instantly credit your account. - We'll always recognise the number you are calling from, so you dont need to log-in or do anything special - Just select any or the horny girls showing online and dial the STANDARD RATE (London) phone number (0203 476 2993) and when prompted enter her extension number!

When you call the standard rate (London) phone number and enter the extension you want to connect to we simply forward the call to the relevant girl's home phone. It's safe for her and it's discreet for you! - Remember, you can use your fixed landline OR MOBILE PHONE at no extra cost, in fact, if you get free minutes in your mobile phone bundle then you won't even pay for the standard rate call to the 0203 number!

THE COSTS...


If you're paying by debit / credit card, (your card statement will discreetly show "WWMedia"), then you'll get a whole HALF AN HOUR of calling credit for just £10! (30p a minute) - That's a lot of talk time, a lot of amazing wanks, and a lot of filthy phone sex fun for a tenner! - These girls are so hot, so horny and so sexy you will want to call them again and again!

You don't have to use your credit all at once! Just call when it suits you. We save your credit for when you next call. We bill your prepay credit in one minute increments.

We NEVER EVER bill your card or phone automatically - All payments are made up front, by yourself (like a pre-pay mobile if you like). There are NO RECCURINNG costs - rest assured of this.
A REVOLUTION IN PHONE SEX!

Just look at the benefits:


• From 29p per minute - The cheapest live phone sex in the UK!


• Use or mobile phone at no extra charge!


• Standard rate (London) phone number - no awkward bills to explain!



• PrePay - No recurring bills - No catches!



JUST DIAL 0203 476 2993
from your Mobile or Land Line!
Hot, Horny, Sexy Girls waiting to talk filthy to you right now!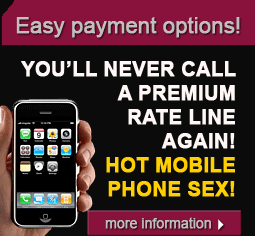 Filthy women who love SMS Sex! Text their REAL mobile numbers!!